No way, I say.  Over at Substack.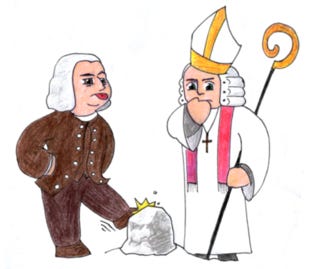 Ed comments:
"He did not maintain that rocks and trees do not exist; he did not deny or even question whether they are; he offered an unusual ontological account of what they are, namely, ideas in minds, including the divine mind." (BV)
True, but careful examination of Berkeley's argument shows that he provides no clear definition or explanation of what "ideas" are.
He opens the Treatise as follows:
It is evident to any one who takes a survey of the objects of human knowledge, that they are either ideas actually imprinted on the senses; or else such as are perceived by attending to the passions and operations of the mind; or lastly, ideas formed by help of memory and imagination -- either compounding, dividing, or barely representing those originally perceived in the aforesaid ways.
But is it "evident"? I look at the brown and black colours of the surface of my desk. These appear to be qualities of the desk surface itself, and not "imprinted on the senses" at all. Is Berkeley saying that the desk surface itself is imprinted on my senses? But that strange claim has to be clarified. Later on he offers a critique of the idea of substance, arguing that ideas are mental items, therefore cannot be supported by an immaterial item, substance. But that begs the question. If ideas are sensible qualities like colours, what evidence is there for their being mental items?
As for Johnson's argument, what is the quale corresponding to resistance? Resistance, i.e. Newtonian force, is the most material of qualities. How can there be a quale of resistance without resistance itself?
BV: Newton's First Law of Motion implies that a stone, say, will remain at rest unless acted upon by an external force such as Johnson's kick.  An object at rest thus resists being moved.  This resistance is a (dispositional) property of physical things.  The quale corresponding to this resistance could be called felt resistance.  It is a mental in nature and cannot exist without a perceiver who, for example, tries to move a rock with his foot.
"How can there be a quale of resistance without resistance itself?"  An idealist of the Berkeleyan sort could say that there can't be a quale of resistance without resistance itself but then go on to say that (i) physical things are nothing more than objects of the divine mind, and (ii) resistance qualia exist only in finite (creaturely) minds. In this way the distinction between resistance qualia and resistance itself could be upheld.
The point I was making in my Substack article was that the good bishop cannot be refuted by kicking a stone. This is because Berkeley is not denying that there are stones; he is making a claim about the mode of being of stones, namely that their being/existence is ideal: they are accusatives of divine awareness and nothing more.  As I read him, Berkeley is not an eliminativist about stones and trees in quads, etc.  You could call him an ontological reductionist about such and sundry.
Daniel Dennett, by comparison is an eliminativist about qualia.  He I can refute by kicking 'stones,' namely his cojones. If I kick him in the groin, he will be brought to understand that felt pain, phenomenal pain, lived pain, is the most real thing in the world, and cannot be denied. I am assuming, of course, that he is not a zombie (as philosophers use this term). But that leads us in a different direction.